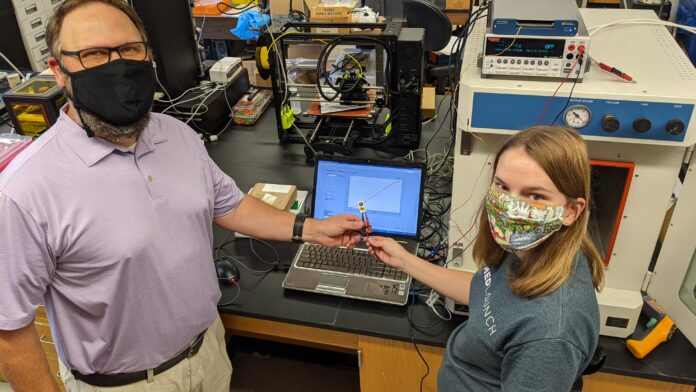 The Kentucky Network for Innovation & Commercialization (KYNETIC) has selected its first round of promising university-born health and medical technologies, each of which will receive training and $50,000 for development.
Seven projects were selected, two of which are from UofL:
A novel immunotherapeutic compound for uveitis, an inflammatory disorder of the eye that ranks as the fifth most common cause of blindness. Development is led by Howard Donninger and Kavitha Yaddanapudi, both of medicine; and Hui Shao, of ophthalmology and visual sciences.
A point-of-care acute clinical differential scanning calorimetry (DSC) device for the real-time diagnosis and classification of heart attacks. Development is led by Tommy Roussel, of mechanical engineering; Nichola Garbett, of medicine; and Andrew DeFilippis.
KYNETIC is a statewide program supported by $6.6M in funding, including a $4M  Research Evaluation and Commercialization Hub (REACH) grant from the National Institutes of Health and matching funds. The goal is to advance the most promising biomedical research innovations — including pharmaceuticals, therapies and devices — from the state's eight public universities and the Kentucky Community & Technical College System.
KYNETIC is a six-month, milestone-driven program focused on quickly determining whether or not each technology is viable as a commercial product. Awardees will receive grants for product-focused research and development, attend trainings, and get advice from program staff, industry, investors and other experts on identifying needs, navigating regulations and protecting their intellectual property. 
Applications require a two-page pre-proposal and are open through August 14 for the next cycle of KYNETIC funding. Funding cycles are offered twice a year and are open to faculty, staff, trainees and students. Competitive renewal opportunities are available. 
Launched in 2019, the KYNETIC program builds on UofL's strong history of translational research support, which includes a previous NIH REACH program ("UofL-ExCITE") and a prestigious suite of programs funded by the National Science Foundation and Wallace H. Coulter Foundation. Paula Bates, professor of medicine at UofL, who co-leads KYNETIC, said the idea is to spur innovation and economic development through shared knowledge and ideas.
"Innovation is, in many ways, about collaboration," she said. "It's probably not a coincidence that most of our successful projects involve multidisciplinary teams because that's a great catalyst for innovation. And KYNETIC is all about working together … sharing what we've learned and learning from other people. It's a really powerful way to reach everybody in Kentucky and use our collective expertise to help to turn great ideas from our state into products that improve people's health and wellbeing."
KYNETIC is led by UofL, the University of Kentucky, and the Kentucky Cabinet for Economic Development, and works closely with Kentucky's regional universities and colleges, as well as with Kentucky Commercialization Ventures.