The Pampered Pooch offers a variety of grooming and spa services for dogs of all breeds and sizes as well as doggy day care and boarding services for owners who are out of town. (Photos by Alex Hosey/Community Impact Newspaper)
Off of Bluff Road in Brentwood are three houses belonging to a family dedicated to making the lives of pets cleaner and homier when they are away from their families.
The Pampered Pooch consists of a pet salon owned by Stewart Strickland and Shawn Stewart where dogs can get washed and groomed and a pet resort owned by Diana Hensley and Johnna Buswell where dogs, cats and even the occasional pig can be taken care of for the day or for extended periods.
Strickland said his customers come to The Pampered Pooch for quality service, and the business lives up to its name with the massages, shampoos and facials they provide dogs, which make it more like a spa for dogs than a barbershop.
"Typically, we have candles lit, and we have flowers and piano music playing in a spa-like atmosphere, and people absolutely love it," Strickland said.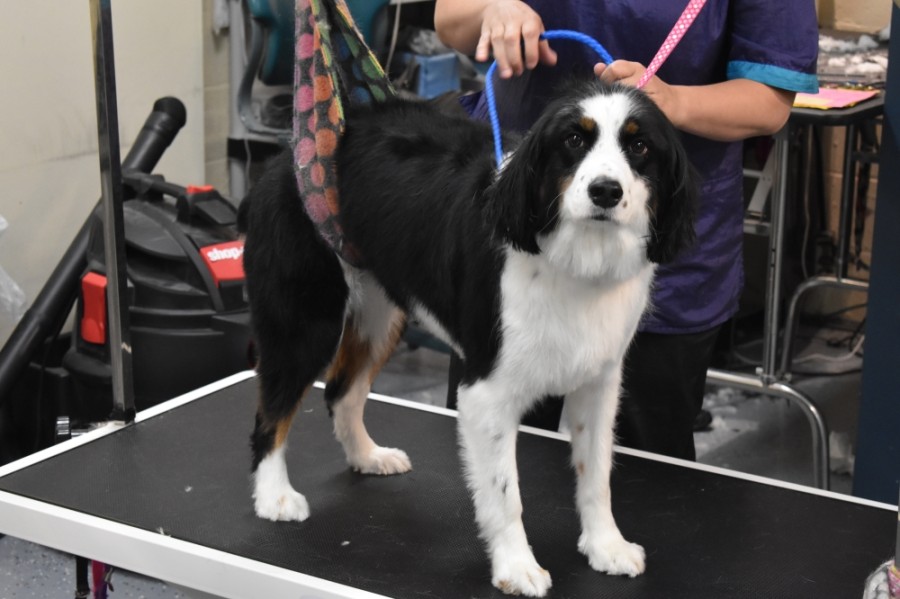 In addition to pampering pets and giving them a quality cut, Strickland and Stewart attribute their success to the customer service they provide as well as to the experience of their staff.
"We're fanatical about customer service and making sure that people are happy. Our reviews are the best in town," Strickland said. "If they drop their dog off here, it's going to be taken care of, it's going to be loved. We've got 60 years of grooming experience [combined] in this room. We don't let people leave unhappy."
According to Hensley, who is also Strickland's sister, the atmosphere of the resort is more like organized chaos as tens of dogs run around several different astroturfed, fenced-in play areas with ramps, playgrounds and a swimming pool in a facility that can house up to 175 pets.
"My brother's place and mine are like salt and pepper," Hensley said, laughing. "When you go over [to the spa], it smells like roses and candles, and there are violins playing, but over here, there could be a dog that just pooped that we've got to clean up as the rush calms down."
Hensley said the resort currently has seven play areas for the dogs that sometimes stay as long as 20 days and that in addition to continually building upon the level of care they provide, they hope to add another play area soon and eventually offer training services.
"I've toured quite a few facilities, and I want to be No. 1 in care, safety and cleanliness," Hensley said. "The dogs go home tired but happy, and that's what the owners are looking for in day care, and there's a fine line there."
Hensley and Strickland said customers did not bring their pets to The Pampered Pooch solely for grooming, day care or boarding for the price, but rather because of the quality of services they provide to pet owners.
"We have a high-end clientele for the most part. We get customers from all areas of town, but we are located in Brentwood, and most of our customers aren't worried about price. They're worried about quality, and that's what we give them," Strickland said.
The Pampered Pooch Resort & Spa
6591 Bluff Road, Brentwood
615-819-0002
Hours vary for services