If you're starting to scale your business and looking at digital marketing platforms or CRMs, HubSpot is one of the first tools you'll hear about, and with good reason. HubSpot provides a powerful, all-in-one solution to coordinate your marketing, sales, service, web content, and even operations.
At Simple Strat, we're HubSpot power users (to put it lightly). We use their tools extensively for our own business, and we are a Platinum-tiered HubSpot Solutions Partner (in English, that means we know HubSpot inside out, and do a lot of consulting on the platform).
We've noticed that while a lot of marketers have a general idea what HubSpot is, few are able to point to specifics about how it works. Which is okay! That's why we're here.
HubSpot does a lot, so we're here to give you the basics of what HubSpot is, and what tools it offers, so you can walk away with a good idea of what your company might need, and how HubSpot can help accelerate your growth.
What is HubSpot?
HubSpot is an inbound marketing and sales software that helps companies attract visitors, convert leads, and close customers. It's a cloud-based platform, so all your data is synced across teams and devices, while updates are instant and automatic.
HubSpot exists to help your whole business function better together, from the first time a potential customer sees a social media post or blog from you, to the emails you send them, to handing them to your sales team for their first purchase, to the customer service they receive, all the way to them promoting your company to their peers. 
All this data is in one centralized location, making it easier to scale, and helps your organization break down data silos and have a single source of truth. This last part helps you avoid data inconsistencies, and the expensive mistakes (and redundancy) that result from them.
You can use HubSpot tools to host web pages and landing pages, create blogs and email sequences, and manage interactions with your leads and customers—all while analyzing the success of campaigns and tracking user behavior.
Sound like a lot? It is! And that's a good thing.
HubSpot has an extensive number of tools and the capability to make a difference in every part of the buyer's journey. They spread their features across 5 "hubs" within the platform, where each hub provides a curated set of tools for each purpose. The hubs all work seamlessly together to give you a full suite of tools across your marketing, sales, operations, content, and support teams. 
You don't need to sync your data back and forth between each section of the platform, because it's all one unified system. Imagine your sales and marketing teams always being on the same page, or your customer service and sales teams being consistent with all their customer communications. HubSpot makes businesses run smoothly across the board.
Even better, HubSpot provides over 1,000 integrations in their immense ecosystem (we'll tell you all about that in an upcoming post).
You can also unlock access to each of these hubs individually with separate purchases if you don't need all of them. 
Before we dive into each of these hubs though, you should understand the ​​HubSpot CRM, which is like the glue that holds it all together.
What is HubSpot CRM?
HubSpot CRM is the free customer relationship management (CRM) platform that makes up the foundational layer of HubSpot tools, to organize and track your leads and customers across hubs. This free tool will save your team from using a spreadsheet (or multiple spreadsheets) to organize your contacts. Cue a round of applause!
What can you do with the HubSpot CRM?
User contact information – keep track of everyone your business interacts with
Activity tracking – keep tabs on calls, emails, and more for each customer
Pipeline visibility – easily view and organize contacts based on how close they are to a purchase
Syncing capability with Gmail and Outlook, for easy contact uploading
Chat in real-time with customers and prospects – easily answer questions and build relationships
Beyond the basic CRM tools, there are 5 different hubs for different parts of your business, which you can either mix and match, or use all at once.
The 5 HubSpot "Hubs" (and what you can do with them)
HubSpot Marketing Hub
All the tools you need to run a marketing campaign that attracts, engages, and delights both potential and current customers. It will help you create compelling content, get it in front of the right people, and convert visitors into leads and leads into customers. Plus, the analytics and reporting capabilities make it easier than ever for marketers to demonstrate the ROI for their efforts.
What's included in the HubSpot Marketing Hub?
Landing pages – create webpages to drive conversions, and take advantage of conversion rate optimization tools like easy AB testing

Emails – the last email marketing tool you'll need: create and send personalized emails, automated with custom time delays and triggered by custom events of your choice, and much more

Blogs – create compelling content to build trust with customers

Social media marketing – schedule posts across platforms and engage with user comments, all from one central location

SEO – get your website ranking higher in search results

Marketing automation – lower your workload by automating your processes for contacts across the buyer journey, while keeping a personal touch

Analytics – what gets measured, gets managed. Keep track of what's working (and what's not) across your marketing channels
HubSpot Sales Hub 
Manage, communicate with, and track your leads with the HubSpot Sales Hub. With more visibility into the pipeline, your sales team is empowered to interact with customers without spending countless hours entering data, or writing the same emails time and time again. Essentially, the Sales Hub is the CRM on steroids, giving you more tools to close more deals.
What features are included in the HubSpot Sales Hub?
Email templates – whip up emails quickly when you choose from premade templates depending on your needs

Free calling – reach contacts directly, and automatically log date and time of contact to make followups easier

Email sequences – automated email flows, making it easy to follow up with leads and save time monitoring their interest

Meeting scheduling – offer an easy way for leads to book appointments

Pipeline tracking – keep tabs on how warm your leads are, and easily find out when it's the best time to close
HubSpot Service Hub 
The customer service software from HubSpot makes it easy to connect with customers and manage those relationships. Because when your customers are happy, you're happy—plus it helps you grow your business.
What does the HubSpot Service Hub include?
Customer feedback – easily collect feedback, share key insights, and better understand customers

Support tickets – one organized place to manage issues

Live chat – on-site chat support to help solve customer problems

Knowledge base – a point of reference to solve common problems, making it easier to scale, onboard new staff, and avoid reinventing the wheel

Reporting and goals – keep everyone on track and see how well their efforts are aligning with goals

Conversational bots – create bots to handle common issues and situations your customers might experience
Hubspot CMS Hub
The content management system (CMS) Hub is like a lighter, more focused version of the marketing hub, dialed in to help you get the most value out of your website and generate more leads. Content and lead generation are key components of a strong inbound marketing strategy, so having a fully-loaded CMS will help take your content marketing efforts to the next level. 
What does the HubSpot CMS Hub offer?
Drag and drop web editor – no coding required, what you see is what you get

SEO tools – to rank better in search engine results 

Web analytics – track traffic flows and conversions across your webpages

Attribution reporting – see which traffic sources and web behavior are most conducive to your desired actions and conversions

Adaptive testing – easily AB test content to figure out the copy and design elements (for starters) that are most conducive to the results you want
Hubspot Operations Hub
The newest hub in the family, the Operations Hub is data-centric and facilitates automation. It helps you connect your apps, and to sync customer data across teams, clean up redundant data, and automate processes to take the "busy work" out of your day-to-day. This hub is a great way to avoid having a half-broken patchwork of software solutions as your business scales.
What does the HubSpot Operations Hub include?
Data deduplication – avoid duplicate contacts and other messy data practices

Real time, two-way data synchronization – avoid inconsistencies across teams

Field mappings – avoid manual reentry of contact info across platforms

Webhooks – share data across platforms when triggered by your custom events

Custom-coded workflow actions – execute code (like JS or Python) to extend functionality within (or outside of) HubSpot
As you can see, HubSpot has a lot to offer, and there are many ways your current or potential customers will interact with HubSpot.
Please note that as each Hub has a few different subscription levels to choose from, some features may not be available at all subscription levels.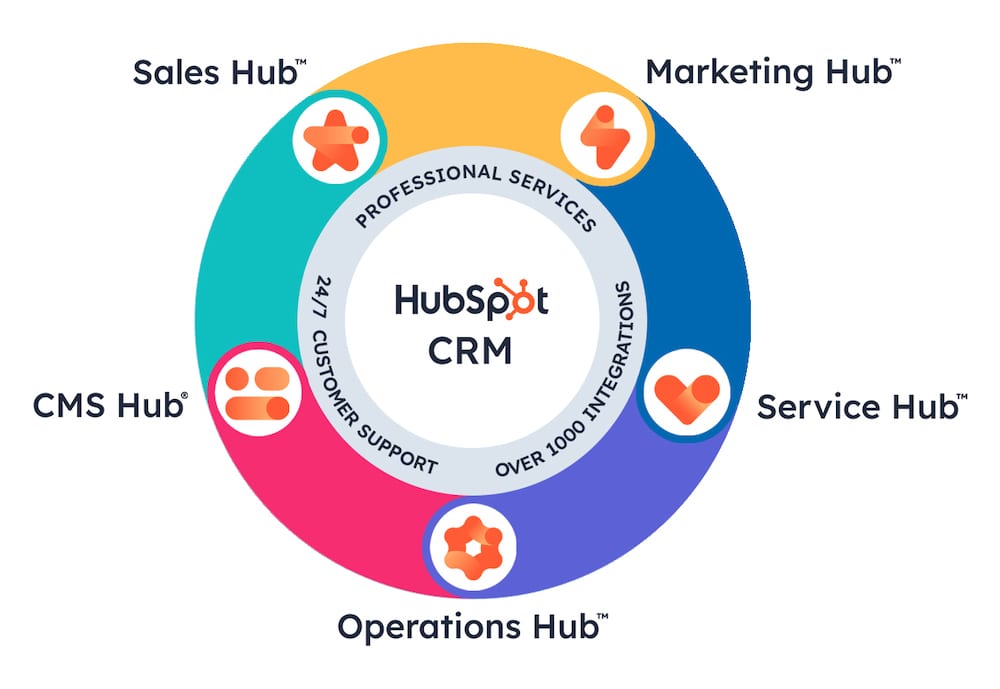 Image Source: HubSpot
Let's talk about Sally, a potential customer for your business, and see how HubSpot impacts her journey: 
This is an example of the inbound methodology. Rather than using traditional sales methods to actively pursue your customers, inbound works to attract customers via strategies like content marketing, providing value and building relationships with leads, which ultimately drives more sales. All of a user's actions are tracked within HubSpot, helping your team know when and how to follow up.
As you can see, HubSpot is a powerful tool that can have a massive impact on your company.
Want to get a feel for what it's like to actually use HubSpot? Watch this demo video for an in-depth walkthrough of the platform.
Wondering why HubSpot is so popular? We know this was a lot of information about how HubSpot works, and how it can help grow your business. So we thought we'd share some of our favorite things about HubSpot while you wrap your mind around everything it can do.
If you keep track of your customers in a spreadsheet or use different programs for your marketing and sales teams, we promise you: it doesn't have to be that hard. We love HubSpot because it is the central hub (no pun intended) for everything in our company. 
We use it to write our blogs, track our customers' activity, and send our monthly emails. It streamlines communication for our team because we always know where things are. (Spoiler, they're all in HubSpot).
One of our favorite things about HubSpot is the data that you receive. Even better? They even updated their reports setup to make it easier to find the information you need to track key performance indicators (KPIs) and measure your success.
Everything is measurable and HubSpot makes it easy to navigate and find the information that matters most to you. You can even customize your reports or create dashboards to share across your company.
But it doesn't matter if we love HubSpot, does it? The real question is, do you think it's the right tool for you?
It comes down to what you're looking for. HubSpot may the right tool if:
With all it has to offer, HubSpot is a great tool to make the marketing and sales journey smooth for your customers—and help your company reap the benefits.