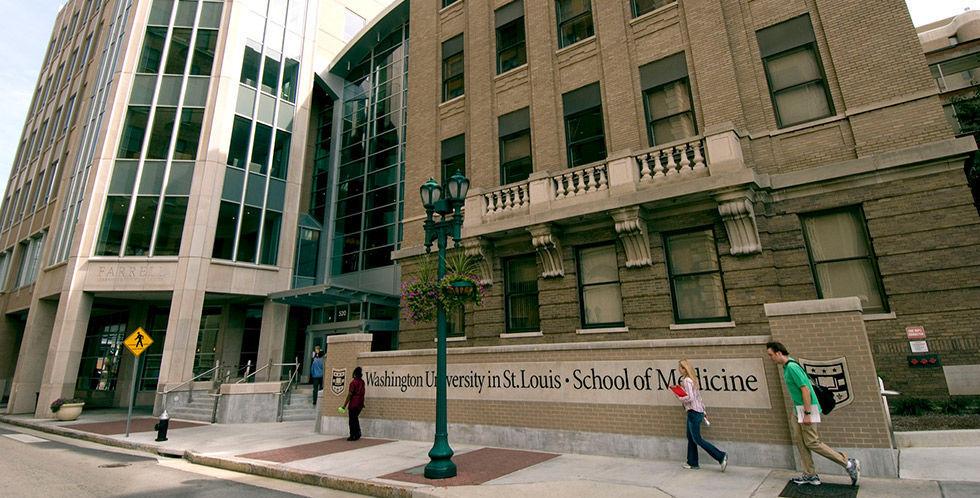 ST. LOUIS — Washington University students advocating for reproductive rights have grown increasingly frustrated with what they say is the university's tepid response to Missouri's abortion ban, and refusal to acknowledge any of the group's demands.
Since May, when a leak of a draft opinion revealed the U.S. Supreme Court would likely overturn Roe v. Wade, students have sent hundreds of letters to university administrators demanding they take a stand supporting the right to an abortion, ensure the medical school will continue teaching abortion procedures and support students and staff who must travel out-of-state to get an abortion.
The group organized a protest on campus that more than 300 people attended and garnered 700 signatures on a petition to administrators detailing the demands.
But they never got an answer.
The effort is led by students with Planned Parenthood Generation Action, a network of more than 350 campus groups across the country raising awareness about reproductive health and access.
Shortly after the Supreme Court issued its Dobbs decision on June 24, Gov. Mike Parson and Attorney General Eric Schmitt separately acted to trigger a 2019 state law that bans all abortions in Missouri except in cases of medical emergency. Anyone providing an abortion in Missouri now faces up to 15 years in prison.
Top administrators at the university — home to one of the top medical schools in the country and among the state's largest employers of medical providers — issued a campuswide letter that neither applauded nor condoned the court's decision.
The letter acknowledged strong emotions on all sides of the debate and encouraged respectful dialogue. It was signed by Washington University Chancellor Andrew Martin and Dr. David H. Perlmutter, dean of the university's school of medicine.
"As an institution of higher education with a strong commitment to medical education and patient care, it is incumbent upon us to rise above the politically charged tenor of the current conversation and work toward productive solutions in support of our mission and our community," the letter read.
Sarah Rosen, vice president of the campus Generation Action group, said the letter's ambivalence, which contrasted with statements by other universities of medical groups, further frustrated students.
"We took a lot of time to listen to what students and staff and faculty and community members were feeling about that letter," said Rosen, a rising junior. "The thing that we've heard the most is, that letter was worse than saying nothing."
Five demands
The Generation Action group updated its email template used by hundreds to sign and send to administrators: "Your 'respect of both sides' is a fundamental rejection of the safety and freedoms of the WashU community and the entire state."
In its email, the Generation Action group demands the university take five specific steps:
• Take an official stand to protect reproductive rights in Missouri, specifically standing against the trigger ban.
• Promise that the university will pay and continue teaching vital abortion care at the medical school.
• Remove crisis pregnancy centers as practicum sites at the university's Brown School, which offers degrees in social work and public health.
• Provide Washington University employees with the necessary funds to access abortion care out of state.
• Prevent the Washington University Police Department from providing information to the St. Louis Police Department on students, faculty or staff related to abortion care if it is requested.
Susan Killenberg McGinn, vice chancellor for media relations, declined comment on the demands.
Students said one has already been met: The university will no longer use crisis pregnancy centers — which are typically religiously affiliated, and counsel clients against having an abortion — as practicum sites.
But even that claim is unclear. A Brown School official told the Post-Dispatch that students select their own practicum sites, and no student has ever requested to be placed at one of the centers. The official did not answer whether the university would deny a student's request.
Rosen said a student informed their group that a crisis pregnancy center had been requested as a practicum site years ago, and that the center was recently removed from a list of possible sites.
It would be helpful, Rosen said, if administrators would address the group.
"The institution has chosen to essentially ignore our commands, resist communication and has failed to acknowledge that we have been making those demands," she said, "so it was not communicated directly to us."
Expectations of the university
The group's other demands involve concerns surrounding privacy, medical education and employer support that have risen to the forefront across the country.
"We are advocating for the student body population, but we are also advocating for the entire state of Missouri and St. Louis," said Amelia Letson, a rising sophomore at the university who serves as co-chair of the campus Generation Action group.
Over the past three years, Republicans in the Missouri Legislature have proposed bills to tax the endowment of universities that provide medical faculty to abortion facilities or provide fellowships that offer training in performing abortions. The tax could cost Washington University more than $150 million.
"Washington University is a premier institution which trains students to perform abortions," Sen. Mike Moon, R-Ash Grove, last year told The Pathway, a publication by the Missouri Baptist Convention. "These students are then hired to murder developing human babies across our nation. They won't stop on their own. This will place a financial hardship on their ability to train these students."
The skills required to perform an abortion are needed to prevent maternal deaths in cases with complications such as hemorrhaging, or to prevent a severe infection after a miscarriage.
"In his letter to the student body, Chancellor Martin emphasized the university's commitment to being an institution of higher learning," Rosen said, "but if you are going to be an institution of higher learning, you have to continue to teach vital medical procedures to the future doctors that you are training."
Leaders of other major universities, even in states also facing severe abortion restrictions such as the University of Michigan and Emory University in Georgia, have issued statements supporting access to abortion.
Gregory Fenves, the president Emory University, which is affiliated with the United Methodist Church, issued a statement saying restrictive abortion laws have "negative ramifications," especially on low-income women and women of color. He called the Supreme Court decision "a painful regression."
"I strongly support access to abortion services, and I will do everything in my power as president to ensure we continue to provide this critically important care," Coleman wrote.
Letson said seeing actions by other leaders have emboldened students' efforts. "Our expectations of the university only grew with that knowledge," she said.
"If the university wants to maintain its prestige and attract great, innovative professors who are doing important research; if they want to attract students from out-of-state who can pay full tuition … taking these steps is major signal to students and potential employees that WashU is a supportive place to exist," Rosen said.
Despite the lack of response by top administrators, others on campus have done more to reassure those worried about access to abortion and emergency contraception, which some feared could be restricted under Missouri's abortion ban.
The student clinic, Habif Health and Wellness Center, has a paragraph at the top of its website making it clear that Habif will continue to provide reproductive services to students, including all forms of contraceptive counseling and intrauterine device placement.
The clinic does not mince words: "Due to the proximity to Illinois, where abortion access remains protected, students interested in abortion services will still have access. There are two clinics within a 30-minute drive from WashU."
Policies should be driven by data, Edmond and Reis wrote, and research shows that restricting access to abortion leads to an increase in negative health outcomes and life-threatening complications.
The Supreme Court's ruling "will restrict access to safe compassionate care, in which women have agency over their own bodies," they wrote.
Rosen and Letson say they will continue to urge supporters to send emails and press administrators to take action.
"We are not going to let the fact that we are frustrated or the fact that they have acknowledged these demands stop us from continuing to make them," Rosen said, "or from taking other steps within our power to protect our fellow students and fight for the community."(tncms-asset)f413d490-0300-11ed-9952-00163ec2aa77[1](/tncms-asset)(tncms-asset)74ae637e-0237-11ed-8bc1-00163ec2aa77[2](/tncms-asset)(tncms-asset)9cf0668a-fe80-11ec-8c1b-00163ec2aa77[3](/tncms-asset)(tncms-asset)643dfaf8-f7ed-11ec-8409-00163ec2aa77[4](/tncms-asset)