Out of all the social media platforms, TikTok is the best place to go viral.
It's not unheard of for an unknown creator to suddenly get millions of views on their video. You don't need a large following or any previous high engagement to go viral on TikTok. You just need great content, and to follow a few simple hacks.
There are a couple of easy things you should be doing to make the most of your TikTok account and increase your reach. Small strategies can make a massive difference. And as soon as you get comfortable with the way TikTok works, you'll be able to churn out plenty of viral videos, one after the other.
Follow this guide for all the strategies you can use to go viral on TikTok.
1. How Do Videos Go Viral On TikTok?
2. How to Go Viral On TikTok: 15 Tips and Tricks
3. Fool-Proof Formula for Creating Viral TikTok Videos

How Do Videos Go Viral On TikTok?
Like any social media platform, TikTok curates the content its users see. This is organized by the TikTok algorithm.
If you go viral on TikTok, this is because your video was shown to a lot of people on their For You feed. Unlike other social media platforms, TikTok users spend more time discovering new content on the For You page than they spend watching the content of accounts they follow.
This means getting on the For You page is your golden ticket to racking up millions of views for your TikTok videos.
And the best part is the TikTok algorithm gives every video an equal chance to go viral. It doesn't matter if you have 10 followers and no previous levels of high engagement. If you produce the right content, your TikTok videos could end up taking over the world.
So, what does it take to end up on the For You page?
To do this, you'll need to understand how the TikTok algorithm works.
While this is pretty complicated, here's how the algorithm works in a nutshell:
TikTok curates the For You page for each user based on their engagement history, interests, location, and account settings (like language)
Videos that reach more For You pages and stay on them for longer are videos that have racked up more engagement
If your content is clearly relevant to a user, there's a good chance TikTok will display it to them
The good news is that every TikTok video gets a chance on the For You feed. The app will show your video on a small curation of users' For You feeds. If the video performs well, it will be boosted to a larger audience.
So, the bottom line is that you need to create quality content that appeals to a relevant audience. Get this right, and you'll be on the right path to racking up millions of views.

How to Go Viral On TikTok: 15 Tips and Tricks
While you can't always guarantee TikTok success, there are a few hacks that help your videos gain more views and engagement.
Try out these tactics if you want to go viral on TikTok.
1. Stay Ahead Of Trends
TikTok revolves heavily around trending content. A massive part of going viral on TikTok is creating the right kind of content that matches these trends.
Trends are what users are searching for and engaging with the most. So, if you jump onto a trend at the right time, you'll have loads of people searching for what your content is about. This means a lot of engagement straight off the bat, which will help you crack the TikTok algorithm.
Some trends last a few days, some last a few months, and some never seem to disappear. While trends come and go they're still the best way to get your videos in front of a lot of users.
So, how do you spot and use TikTok trends?
To find trends, go to your For You page and see what type of content most people are posting. Take a look at the discover section to find popular hashtags, look for trending music, and keep an eye on the platform's most popular creators. As soon as you see a trend taking shape, jump on it straight away!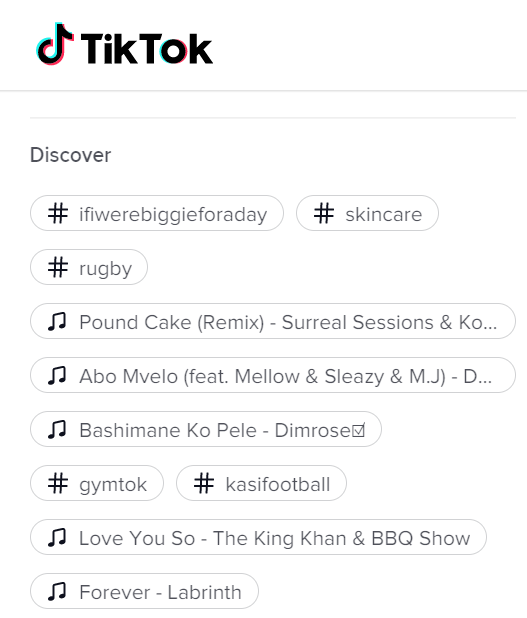 Above: The Discover section offers a good insight into what's trending at the moment
Trends could come in the form of trending audio, hashtags, dance challenges, and more.
Whatever the case, try to find a way to incorporate your unique personality into it. You don't just want to recreate a popular trend, you also want to add your unique spin to it. This will help you create a more compelling story and gain a lot more attention.
2. Let Your Creativity Shine
If you want to go viral on TikTok, you'll need to stand out. With so much content flooding the platform, it's really important that you let your personality shine and get creative with your videos.
Whatever kind of content you create, always try to make it unique and entertaining. Whether you're being funny, doing an impressive dance routine, saying something serious, or just being silly, try to include your own creative elements whenever you post videos.
Now, this may sound like a cliche, but the best way to do this is to just be yourself. Nobody else has your personality, so use it to the max in your TikTok videos!
This will make your content a lot more interesting, keep viewers engaged, and help your videos reach a lot more people.
3. Post Your Videos at the Right Time
One of the best ways to get more views is to post your TikTok videos at the right time.
You want to post your content when your target audience is most active on TikTok. This will help you get more engagement straight away, which will help the algorithm increase your video's reach.
If you just post your content at random times, your audience might be asleep. This means nobody will see your content straight away, so it will get less engagement – making it much more difficult to go viral.
How do you find the best time to post on TikTok?
First, switch to a TikTok Business account. This lets you access TikTok analytics.
Next, go to your analytics tab. You can find information on where your audience is located, as well as the days and hours of the week your content gets the most engagement.
Figure out your audience's time zone, and look at your account's busiest times. This will help you find the optimal posting time.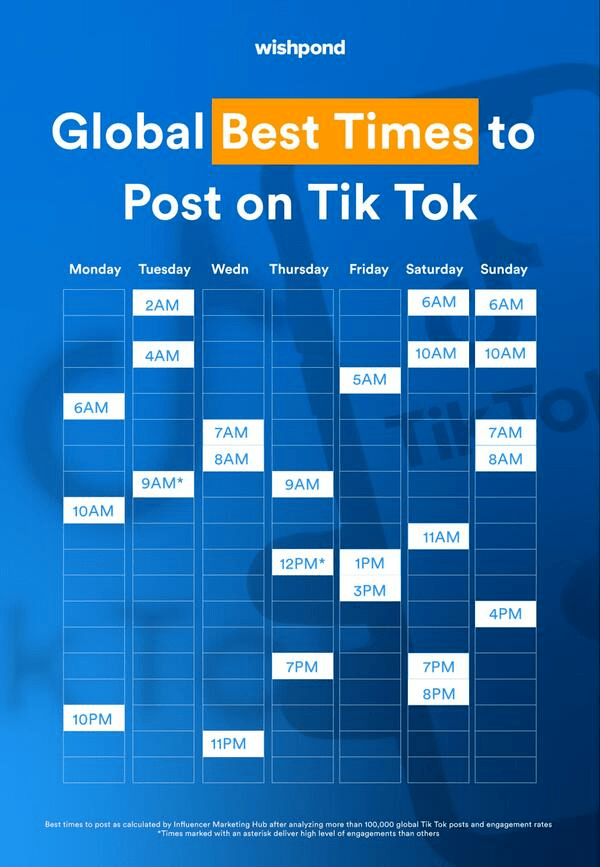 Follow our guide for a more detailed overview of finding the best time to post on TikTok.

4. Create Short Videos
Video length plays a big role in how engaging your content is. Sure, you could create a 3-minute video and still go viral on TikTok. However, this won't be as easy.
Shorter videos are easier to watch, they're more attention-grabbing, have a greater watch time, and they increase the chances of a viewer watching them again. All of these are important elements of viral content.
This is why shorter videos tend to gain more views and more engagement.
There's no optimal video length, but in general, try to keep them under a minute. Shorter videos also let you improve your creativity skills, which is another major bonus.
So, when you open your camera, always remember to keep videos short.
5. Include Popular Hashtags
Hashtags offer one of the easiest ways to get more exposure. They connect your content with more interested viewers, helping your videos reach more screens.
If you include relevant, trending hashtags in your TikTok videos, you'll instantly increase their reach in a big way. Hashtags are the other way to get more reach, besides landing on the For You feed.
Just make sure that you use relevant hashtags. If you just add random trending hashtags that don't relate to your content, it might backfire completely.
Search for your topic and look at what the most popular hashtags are. Include these hashtags below your video description to boost your reach.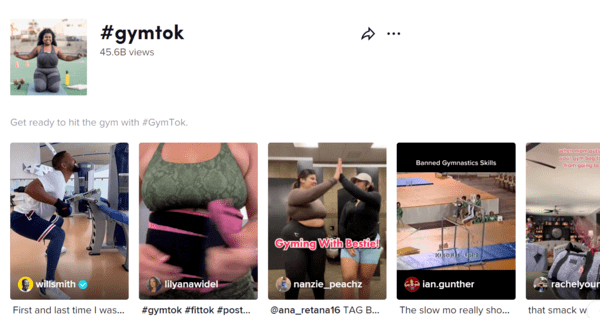 6. Encourage Interaction
Remember, TikTok is a social platform. It's not just a place to share video content, it's also a place to interact with other users and engage with your community.
If you want to go viral on TikTok, you'll want to encourage users to comment and boost community interaction.
Interaction is one of the TikTok algorithm's ranking signals, and it's an important one.
7. Cross-Promote Your Content On Other Social Media Channels
Short video content isn't only reserved for TikTok.
Thanks to how popular TikTok has made this type of video content, other platforms like Instagram, Facebook, and YouTube are also promoting short-form video content.
If you've got a great video, you can always post it on these other channels to gain more traction.
It's possible to add TikToks to your Instagram Stories, Reels, and more. By boosting your views across different channels, you're setting the stage for a viral video to take place.
8. Post Frequently
Don't just put all of your time and effort into creating one TikTok video that you hope will go viral. If you want to increase your chances of racking up a lot of views, then you'll need to post as much as possible.
It's an obvious concept, but the more you post, the better your chances are that your video will go viral on TikTok.
So, create videos as often as you can and keep getting content out there.
There's no optimal posting frequency, but the general idea is that you'll struggle to post too often. Posting one, or even two, great videos a day is perfectly OK.
This won't only help you get more views, but it will also teach you to become a better content creator.
Just remember that quantity doesn't beat quality. Don't create videos only for the sake of creating a lot of content. If your videos aren't of a high enough quality, don't post them. Otherwise, this could backfire for you.
Top Tip: Don't just post often, but ai for posting consistently. Having long breaks between posting content can reduce your engagement.

9. Collaborate and Engage With Other Popular Creators
Remember what we were saying about engaging with your audience on TikTok? Well, it's just as important to get involved with other popular creators.
Find a few of the most popular creators in your niche, and actively comment on and like their videos. Try to build up a virtual relationship, and look for opportunities where you can co-create TikTok content.
Collaborating with a popular influencer can help you gain a huge increase in views.
Duets are a great tool to help you start creating collaborative content. This lets you respond to other content creators, helping you access their audience.
10. Use Your Own Audio
Yes, using trending music and trending sounds is important if you want to go viral on TikTok. However, you can also add your own spin to this to help your videos stand out.
Including your won audio adds more personality to your TikTok content. It can help you create a deeper connection with your audience, and make your unique personality more noticeable.
Whether you're making dance videos, a response video, or even goofy dog vids, adding your own voice to trending audio can help you capture a lot more attention. Try to make it fun and funny (which brings us to our next point).
11. Incorporate Humor Into Your Videos
We're not saying you have to be the next breakout comedic star, but humorous videos get a lot more engagement and view than serious ones.
TikTok is a platform for being silly and having fun, so having a sense of humor goes a long way. No matter what kind of niche you're focused on, the most viral videos are generally funny, or just a bit silly.
So use TikTok as a chance to find your sense of humor. If you're quite a serious person, the good news is that most of the latest trends are focused on humor. Just use the same audio or routines as funny trending videos until you start to find your own voice.
And most importantly, have fun doing it! This may sound cheesy, but you can clearly see when TikTok creators are having a good time, and this makes their content a lot more fun to watch.
12. Know Your Audience
TikTok is a video platform loaded full of different communities. There's a TikTok niche out there for every interest, and these niche communities show each other a lot of support.
If you clearly define your audience, you'll be in a much better position to tap into an active community. Getting your content to frequently appear in a specific community will make it a lot easier to build up a following and get lots of views.
Don't worry, your reach won't be limited to this audience. But if you have a core audience whose For You pages you always land on, engagement from them will help you increase traction and reach more screens.
To achieve this, you'll need to be focused on creating content related to that specific niche as much as possible.
Research communities o TikTok, find relevant hashtags for them, and follow and engage with other popular accounts in this community, The better you know your audience, and the more tailored your content is for them, the better your chances of going viral.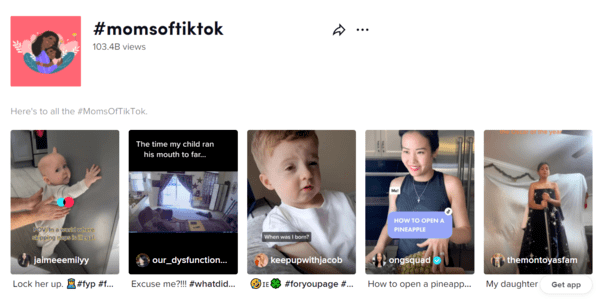 13. Use TikTok's Tools
TikTok has a huge array of video editing tools.
Not only will these tools help you maintain a unique video style, but they will also add to your chances of viral success. This is because the TikTok algorithm is more likely to show your videos to users who have already engaged with the original filters and sounds that you've used.
So explore the different tools available, and try experimenting with something new in your next video.
These tools are also incredibly easy to use, so they can help anyone create better content and increase their video's visibility.
14. Do Something Controversial
One of the best ways to go viral on any social media platform is to post something controversial.
Don't worry, we're not asking you to offend anyone or cross any lines. By controversial, we just mean saying or doing something that other users might disagree with or have strong opinions on.
What's the best way to eat an Oreo cookie? What's the worst flavored M&M? Do you love or hate Friends?
Say something that will get people involved. Maybe it irritates them slightly, or maybe your view gets users so amused that they just have to comment.
Silly things like this get loads of TikTok users jumping into your video and commenting their opinion. Not only will this help you to ramp up the views, but it's also a great way to show off your personality and build an audience.
15. Use Strong CTAs at the End Of Your Video
This will help you go viral on TikTok and it will help you grow your following. Because what's the point of getting a million views if you don't get any followers from it?
Something as simple as a "follow me for more" or a "like this video if you want part 2" can make a massive difference to your engagement levels. As long as your video is convincing, a good call to action will inspire people to actually do something.
If you just do silly dances and end it at that, your viral videos might not help your TikTok channel to grow.
Fool-Proof Formula for Creating Viral TikTok Videos
We've just given you 15 TikTok hacks to help you get loads of views. You're probably wondering how to squeeze all of this into your next dance video? Don't worry, we've got your back!
There's a lot to consider if you want to know how to go viral on TikTok. To help you out, we've created a basic template that you can use when you structure your videos. Whatever kind of content you're creating, structure it this way and there's a good chance your video will be a success.
Step 1: Hook Your Audience From the Start
A strong hook is everything on TikTok. You want to grab attention straight away if you're going to increase your watch time and video completion rate. You only have a few seconds to do this, so start strong.
Present a problem, or hook the viewer straight away with an unanswered question. Your goal should be to make videos people feel compelled to watch until the end.
Step 2: Use a Trending Song or Audio Clip
Audio clips make a major difference in helping videos get discovered. Either use trending audio content or make use of the voiceover feature for some original audio. The right sounds will make an enormous difference to how many views you get.
Step 3: Keep It Short
We've already covered this in detail so we, won't explain it again. Short videos get more engagement, so don't film until your time runs out. If your topic does demand longer videos, then break these videos up into a series of many smaller videos.
Step 4: Record a Strong CTA
"Want to hear my opinion on more types of foods? Leave a comment on what you want me to review next". An ending like that can help you gain a lot more engagement.

Step 5: Edit Your Video With TikTok's Tools
Use TikTok's in-app tools to add filters, audio, and whatever other effects you need to turn your recording into a better video.
Step 6: Ensure Your Video Description Makes People Want to Engage
Write a fun and engaging caption. Ask a question, repeat your call to action, and use your caption to get people engaging with your content. Make sure you also add in relevant hashtags.
Step 7: Post at the Right Time
Post when your audience is most active. Read our guide for a refresher on this.
Step 8: Engage
Don't put your phone away after you've posted your video. Respond to comments and make your video a place of discussion. Always try to lead the conversation to help you keep the engagement rolling in.

Summary
You don't need a film degree or expert digital marketing skills to become a TikTok sensation. Anyone can get a million views on their video, as long as they create content that their audience wants to see.
Even if you have a small audience, follow these tips when you make new videos. You'll soon see just how much of a difference it will make!

Related Content