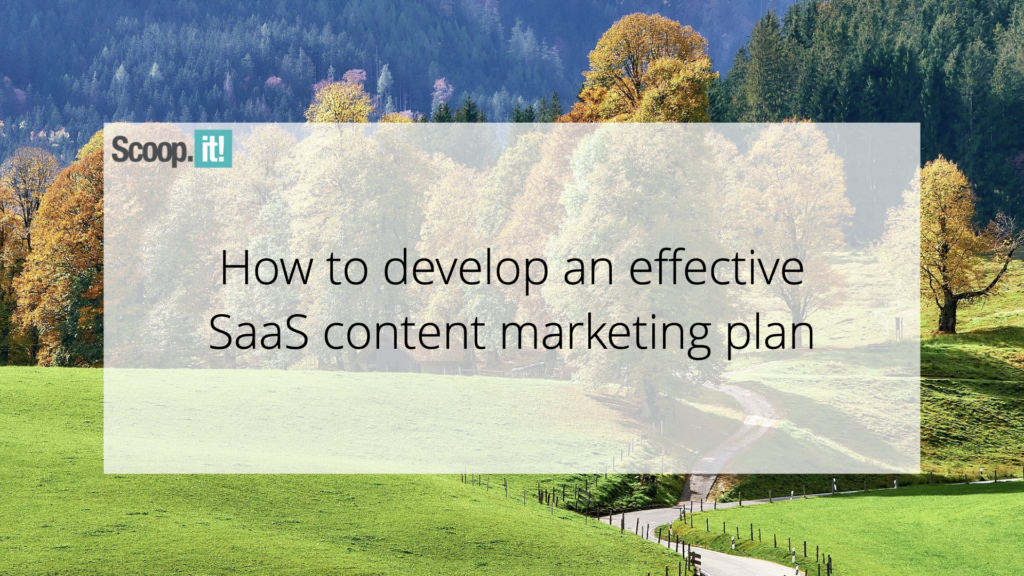 Content marketing costs 62% less than other marketing methods for SaaS companies. It generates three times more leads than outbound marketing.
With these numbers in mind, it's clear that content marketing is a powerful lead generation method. An effective content strategy can help potential customers understand your product. Your SaaS content can also be used to engage buyers through the sales funnel.
SaaS companies use different types of content as a part of their everyday marketing strategy. About 98% of SaaS companies have a blog for publishing high-quality content.
B2C and B2B content marketing is more than just running a blog, though. It's a marketing strategy that SaaS companies can use to attract and find their target customers. Besides writing blog posts, it involves publishing white papers, case studies, infographics, videos, and more. Content marketing publications should engage prospective customers, provide valuable information, and ultimately turn them into paying customers.
Here's a guide on how to develop an effective SaaS content marketing plan.
1. Identify customer pain points
The first step in creating your Saas content marketing plan is identifying customer pain points. This will help you focus your content marketing and sales strategy on your target audience's needs. The easiest way to learn what motivates your clients' buying behavior is by creating a customer journey map. 
Customer journey mapping illustrates interactions between a SaaS company and customers across different times and digital channels. It can help you see how users build relationships with your software across every touchpoint.
For a SaaS marketing outreach, you should identify the pain points which led people to seek a solution that your brand offers. This will help you craft precise strategic goals and focus your content strategy around the specific needs of your target customers.
Ask your customers directly or through questionnaires and online surveys. Check social media and industry forums to find out what people are saying about related brands, products, and services.
Speak with your sales and support teams. They can be a great source of feedback on your prospects' pain points. You can also study live chat conversations to look for customers' pain points. Insights from consulting companies like Venturesmarter or digital marketing agencies can also help companies to identify customer pain points. 
With the pain points identified, you can now develop a spot-on SaaS content strategy that resonates with your target audience.
2. Identify the keywords
Identifying the types of keywords that your potential customers will be typing into a search engine is the next point to developing an effective SaaS content marketing plan. People will use specific keywords at each step of the customer journey to find information that meets their needs. 
Identifying key phrases for each stage of your customer's journey will help you create a comprehensive SaaS content strategy. 
So, for example, your potential customers may search for online guides when they start to seek a solution to their problem. For instance, a customer will search for "tips to grow your email list."  From this search query, they'll expect to find detailed information guides on how to grow their email lists.
As they move down the sales funnel, they may start comparing different products. That's where search queries such as "best popup form builders" come in. The user is now trying to compare different solutions that can resolve their pain point.
Afterward, they may zero in on a specific solution and search for reviews, testimonials, or case studies of that tool.
As you can see, the user searches for different types of content using different keywords as they move through the sales funnel. Therefore, you must identify each keyword used by your target audience in the different stages of the buyer's journey. Then, create helpful content with optimal keyword density targeting each of those keywords. 
To find the right keywords, use online tools, such as Google Keyword Planner, Ahrefs, SEMrush, Moz, or BuzzSumo. 
3. Define your goals
The next step in developing your SaaS content marketing plan involves defining measurable goals for your content campaigns. You can define your goals by identifying Key Performance Indicators (KPIs) and tracking these metrics. 
For instance, one of your goals could be to increase free trial registrations. Another example is getting more visitors to a specific web page on your company's website or signing up for your company's email newsletter. Each of these goals would require a different KPI to measure.
Here are some commonly defined goal examples for a SaaS business:
For brand awareness – grow website organic traffic by 25% in the next quarter.
For lead generation – lower the cost per lead by 10%.
For sales – boost conversion rate by 30% from content marketing.
For customer retention – decrease your churn rate by 7.5%.
Notice that there are different KPIs to measure different goals. Defining your goals will help you align KPIs to each of your goals.
So, for example, if you want to track your lead generation efforts, a Click-Through Rate would be the KPI you want to measure. CTR is a metric that measures the rate of clicks on an ad per impression. Assuming your Facebook ad got 1000 impressions and 300 people clicked on it, your CTR would be (300/1000) x100% = 30%.
The CTR indicates how effective your lead generation efforts through ads are. Relevant pieces of content and clear CTAs are the most effective ways to increase CTR.
4. Establish SOPs for content production
Another step in creating a content marketing plan for your SaaS company is establishing Standard Operating Procedures for content production. SOP is a set of step-by-step instructions issued by a company to help the content team members carry out complex but routine tasks.  
Your SOP should cover the following tasks:
The search for topics that your target audience would find relevant at each stage of the journey
Pointing desired types of content
Creation of a content calendar
Producing valuable content pieces
Scheduling publication of the content
Your content marketers can use your company's SOPs in their everyday tasks. This will help streamline the process of SaaS content creation for every stage.
For instance, you can specify in your SOPs the best days and times for publishing your relevant content. Other examples are the distribution of specific tasks between your marketing team members or the tools needed for each stage.
5. Create a content distribution strategy
Your SaaS content marketing plan needs a content distribution strategy. You need to decide where and how frequently you will be publishing your relevant content and how you will promote it. A distribution strategy will help your content team promote the latest blog posts on your website, new ebook, and other content types. 
The distribution strategy for your SaaS business should address several things. For example, will you make your content available for everyone, or will it be restricted to premium users only? What websites will you use for guest blogging and partnerships? Which social media channels will you use to distribute and promote your content?
For example, Scoop promotes its blog posts on social media platforms like Twitter:
They also appear on industry-related websites, like the Search Engine Journal's blog:
And release webinars:
Using emails as a content distribution channel is also highly effective for SaaS businesses. You can distribute different content formats using email marketing to boost brand awareness and improve outreach. 
For example, you can share valuable blog content with your email list. Share tips, industry news, your products, statistics, videos, or other facts to keep your audience's interest.
Consider using marketing automation tools to improve your content distribution process. With these tools, you can schedule content uploads to your website and social media profiles. This way, it's more effective to implement your content distribution plan.
6. Track your content performance
To ensure that your content marketing strategies are achieving satisfying results, it's critical to track the content performance of your campaigns. You can do this by tracking KPIs you have established for your marketing plan. The results will help you understand how to optimize your content marketing efforts. 
There are many online tools that you can use to track the content performance of your SaaS marketing strategy. Google Analytics is a good example. You can create customized displays and reports tracking your desired KPIs with the right software.
The analytics tool from Scoop.it, for instance, brings easy-to-use analytics with KPIs to better understand the impact of your content curation.
Source
If you notice that some of your results aren't meeting your goals, adjust your SaaS marketing plan accordingly. On the other hand, if you identify a piece of content that is generating great results, you can focus your SaaS marketing budget on promoting it. You can even use it as a template for future campaigns.
In Closing
SaaS content marketing is a powerful tool for attracting a larger audience. The valuable content your marketing team creates should educate the target audience and help to convert them into loyal customers. 
To achieve all that, you'll need a  SaaS content marketing plan. The plan involves identifying the pain points of your target customers and the right target keywords. Defining your goals will help you keep your content marketing strategies on the right track. Establishing SOPs for high-quality content production plus a distribution strategy will streamline your marketing content processes. 
Finally, every plan put into action needs to be monitored. Tracking your content performance is necessary to learn if your strategy brings results.
Use this guide to take your SaaS content marketing efforts to the next level.