Advancing your career is an endless but often exciting process.
For human resources professionals, you can take on many opportunities and specializations throughout their careers. If you consider yourself more of an HR generalist, the role of an HR manager may be the right choice for you.
What is an HR manager?
An HR manager is a generalized role within a human resources team that oversees recruitment, interviewing, training, and benefits. HR managers may lead a team of specialists or conduct specialized duties depending on the company's size. This individual plays an important role in strategic planning and serves as a liaison between administrative staff and employees.
There's no denying that an HR manager has a lot on their plate. Thankfully, there's human resource management (HRMS) and human capital management (HCM) software that HR managers can use to streamline processes and manage tasks related to recruiting, employee training, and performance reviews.
What does an HR manager do?
An HR manager is responsible for overseeing human resources department processes and managing employee functions. Individuals within this role need to be proficient in recruitment and candidate sourcing, training and development, compensation and benefits, employee relations, and consulting with leadership on the needs of all employees.
The day-to-day role of an HR manager can vary greatly between organizations and industries, in addition to the size of the team they manage. Specialization can help you become an HR manager, but to be truly effective in the role, you need to know as many HR functions as possible – and the ability to lead a team.
In a larger company that focuses on more specialized HR management roles, the specialties will be broken down by:
HR development: Carry out training sessions and onboard new employees.
Workforce planning and development: Assist in finding new talent for the organization and building employee development initiatives. 
Employee relations: Help to negotiate employee contracts, resolve disputes between employees, and handle employee engagement programs.
Risk management: Develop health and safety programs while ensuring the well-being of all employees.
Rewards: Oversee compensation and benefits programs.
How to become an HR manager
There are a few ways you can set yourself up for success in becoming an HR manager at your desired company.
Certification
Earning an HR certification will put you ahead of other candidates who only come to the table with a bachelor's degree. It's important to note that most of these certifications do require experience in the field and a paid exam to complete.
An HR certification is essential to keep you informed on all topics and practices, help prove you have a good knowledge base, and test your understanding of HR. They can also help add value to your career and can assist in getting promotions. 

Alyssa Kowalczyk
HR Manager, Truly Engaging
Some certifications an individual can receive to start their career as an HR manager are:
Professional in Human Resources (PHR): Focuses on skills related to technical and operational functions of HR management.
Certified Professional in Learning and Performance (CPLP): Best for HR managers in employee learning and performance.
Associate Professional in Talent Development (APTD): Best for HR managers working in talent management.
Senior Professional in Human Resources (SPHR): Meant for senior managers or HR directors looking to take their skills to the next level
Senior SHRM Certified Professional (SHRM-SCP): Helps to prepare those in HR management to become leaders in the field. This certificate focuses on employee performance and efficiency.
Documentation
Creating application materials that make you stand out is essential to getting the job. You'll want to craft a specific HR manager resume and cover letter that shows you have the experience and qualifications to earn the spot. 
Preparation
After you win the employer over with your application materials, you'll want to brush up on HR manager interview questions that could pop up. Many interviewers want you to answer authentically without scripting your responses. Being prepared for what you may be asked allows you freedom in the moment to give thoughtful and honest answers.
HR manager job description
While the job description for an HR manager may vary depending on the size of the organization and the industry it's in, below is an example of a job description that one may see for an HR manager role.
Job summary:
The human resource manager will lead and direct the routine functions of the human resources (HR) department. This will include hiring and interviewing candidates for open roles, administering pay, benefits, and leave, and enforcing company culture, policies, and practices.
Supervisory responsibilities:
The role of the HR manager will include the following supervisory responsibilities:
Recruits, interviews, and assists in hiring and training new staff in the department.
Oversee the daily workflow of the department.
Provides constructive and timely performance reviews for their direct reports.
Handles discipline, termination, and

offboarding

of employees per company policy.
Duties and responsibilities:
The role of the HR manager will include the following duties and responsibilities.
Partners with the senior leadership team to understand and execute the organization's HR and talent strategy. Their main focus will be on current and future talent needs, recruiting, retention, and succession planning.
Provides support and guidance to HR generalists, management, and other staff when complex or specialized questions and issues arise. This individual may be required to administer and execute routine tasks in potentially delicate circumstances, such as providing reasonable accommodations, investigating allegations of wrongdoing, and terminations.

Suggesting changes in policies and procedures based on employee and company needs.

Manages the talent acquisition process, including recruitment, interviewing, and hiring of qualified job applicants. Collaborates with departmental managers to understand skills and competencies required for open roles.

Analyzes trends in compensation and benefits. This includes researching and proposing competitive base and incentive programs to allow the organization to attract and retain top talent.

Creates learning and development programs and initiatives that provide internal development opportunities for employees.
Oversees employee disciplinary meetings, terminations, and any necessary investigations.
Maintains compliance with federal, state, and local employment laws and regulations and recommended best practices.
Maintains knowledge of trends, best practices, regulatory changes, and new technologies in human resources, talent management, and employment law.
Performs other duties as assigned.
Required skills and abilities:
The role of the HR manager will include the following required skills and abilities.
Excellent written and verbal communication skills.
Exceptional negotiation, interpersonal, and conflict resolution skills.
Excellent organizational skills and attention to detail.
Strong analytical and problem-solving skills.
Ability to prioritize and delegate tasks when needed
Ability to act with professionalism, integrity, and confidentiality.
Robust knowledge of employment-related laws and regulations.
Proficiency with or the ability to quickly learn the organization's HRIS and talent management systems.
Education and experience: 
The role of the HR manager requires the following education and experience.
Bachelor's degree in Human Resources, Business Administration, or related field required.
A minimum of three years of human resource management experience is preferred.
SHRM-CP or SHRM-SCP certifications are desired.
HR career path
HR manager is just one stop on your human resources career path. Successfully becoming an HR manager means you're already on your way to the top.
It all starts with receiving your first HR certificate and getting a job as an HR clerk. While everyone's career path will have its unique ebbs and flows, this is one example of what an HR career path may look like.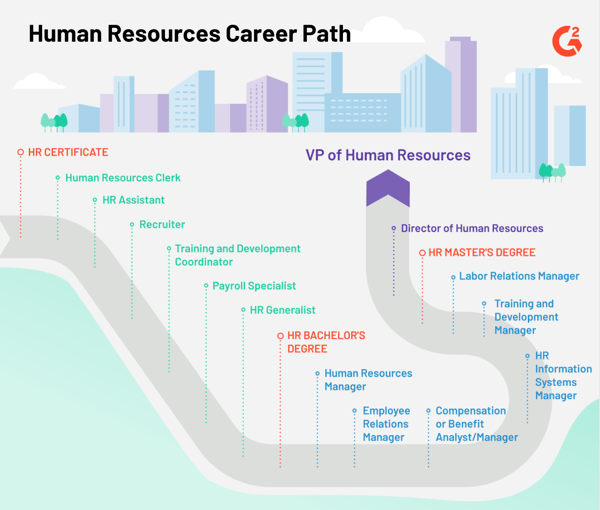 The greatest resource of all
People are an essential component of any business, and it takes the right person to manage people as a resource. HR managers play a vital role within a company, so the person within this role must have the necessary skills and qualifications to excel!
A key part of being an HR manager is understanding workforce management. Learn how it can boost productivity for any HR manager and their team.