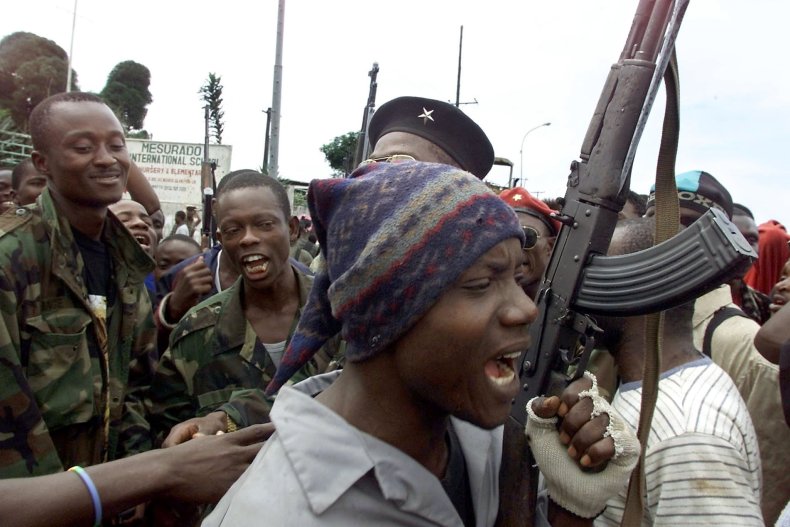 A man accused of committing atrocities during the Second Liberian Civil War, when he was known as "General Dragon Master," has been arrested by federal authorities in Pennsylvania.
Laye Sekou Camara was charged with using a fraudulently obtained immigration document, according to a criminal complaint filed in the U.S. District Court for the Eastern District of Pennsylvania last week. While applying for a non-immigrant visa in 2011, Camara allegedly claimed he had "never been a member of or involved with a paramilitary unit, vigilante unit, rebel group, guerrilla group or insurgent organization."
However, according to an affidavit from a Department of Homeland Security (DHS) investigator included in the complaint, Camara was a leading member of the rebel group Liberians United for Reconciliation and Democracy, or LURD, which has been accused of committing atrocities, including the massacre of civilians, during the 1999-2003 war in Liberia.
"In fact, he was a high-ranking member of the LURD rebel group during Liberia's Second Civil War," the investigator said of Camara, according to a copy of the complaint given to Newsweek by Seamus Hughes, deputy director of the Program on Extremism at George Washington University.
The complaint cites a 2004 State Department report that asserts Camara was also known as "Sekou KAMARA" and "K1," in addition to "Dragon Master." At the time, Camara was "in hiding after he allegedly killed a fellow LURD General known as Black Marine," according to the report.
After allegedly falsely obtaining a visa to enter the country, Camara later received a green card on the same pretenses, which he went on to use on an application to Pennsylvania's Department of Transportation in 2017. Camara had been living in southwest Philadelphia before his arrest, according to The Philadelphia Inquirer.
Pennsylvania's Office of Attorney General, DHS, and other federal agencies launched an investigation into Camara in July of last year. He was not the first alleged former Liberian war criminal to be investigated on immigration fraud charges.
In 2017, Mohammed Jabbateh, also known as "Jungle Jabbateh," was convicted on charges of falsely obtaining immigration documents. He was a notorious warlord accused of atrocities committed during the First Liberian Civil War. Jabbateh, who had also been living in Pennsylvania, was later sentenced to 30 years in prison.
Liberia's First Civil War, from 1989 to 1997, left hundreds of thousands dead, including a large number of civilians. Forces led by Charles Taylor executed the former Liberian President Samuel Doe in 1990, before going to struggle for control of the country in a battle with several other rebel groups. The war ended when Taylor was elected Liberian president in 1997.
Rebel groups waging the Second Civil War hoped to remove Taylor, who resigned from office in August 2003 just before a peace agreement ended the war. Taylor was later convicted in international criminal court of multiple war crimes and sentenced to 50 years in prison.
Newsweek reached out to DHS and the Embassy of Liberia in Washington, D.C., for comment.