California Senator Dianne Feinstein insists she's an effective lawmaker and won't step down in response to a report that the 88-year-old's declining memory has made her unfit for office.
Feinstein made the remarks to The San Francisco Chronicle's editorial board Thursday, pushing back on the paper's reporting that cited unnamed congressional insiders who raised alarms about her fitness for office. The longtime Democratic lawmaker's insistence she won't step down comes after the most recent report questioning if she should stay in office.
"I meet regularly with leaders. I'm not isolated. I see people," Feinstein told the paper's editorial board. "My attendance is good. I put in the hours. We represent a huge state. And so I'm rather puzzled by all of this."
The editorial board described Feinstein as "diminished but lucid and responsive." During the interview, Feinstein said she did not plan to step down before her term ends in 2024 and her colleagues have not raised questions to her about her fitness.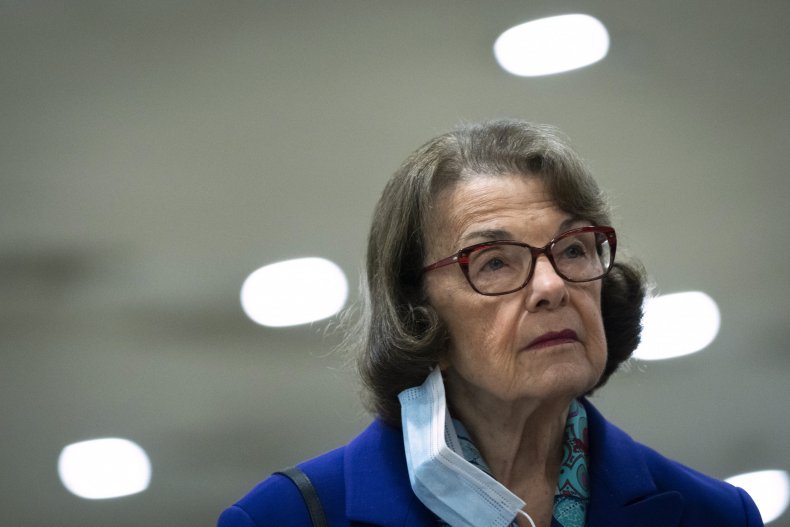 Four U.S. senators (three Democrats), three former members of her staff and a Democratic California representative all told The Chronicle that Feinstein's memory was quickly getting worse. The unnamed sources all told the paper that Feinstein relies on her staff for much of the work as a senator for a state of nearly 40 million.
"There's a joke on the Hill, we've got a great junior senator in Alex Padilla and an experienced staff in Feinstein's office," said a staffer for a California Democrat.
The report included on-the-record remarks from current officeholders praising Feinstein's capabilities. It also cited a California Democratic representative who had to reintroduce themselves to the senator repeatedly during an hours-long meeting.
Speaking to the paper's editorial board, Feinstein pointed to accomplishments in increasing pay for needed federal wildland firefighters as well as investments she secured for the state in the recent federal infrastructure package.
She did admit during the interview that she failed to recognize the face of a member of Congress recently, attributing the lapse and others she may have had to stress from the drawn-out illness and death of her husband, who died from cancer in February.
"While I have focused for much of the past year on my husband's health and ultimate passing, I have remained committed to achieving results and I'd put my record up against anyone's," Feinstein told Newsweek earlier Thursday.
The paper's editorial board wrote that "it was clear from our conversation with the senator that moments of clarity still reign," citing Feinstein's participation in Senate confirmation hearings for Supreme Court nominee Ketanji Brown Jackson.
But the editorial board concluded that "if Feinstein's mental fitness has indeed deteriorated to the point where it's an open secret that she's incapable of doing her job, Democrats need to forgo the jokes and say so openly."
This isn't the first time concerns surrounding Feinstein's age have come up. A 2020 article in The New Yorker reported that Senate Democrats were facing a "painful age question" around Feinstein. The story cited how Feinstein repeated a question to then-Twitter executive Jack Dorsey during a Senate Judiciary Committee hearing.
Reproductive rights groups called for Feinstein to be replaced on the committee or step down after speaking positively of the 2020 confirmation hearings for Supreme Court nominee Judge Amy Coney Barrett, a conservative jurist picked by then-President Donald Trump.