Sign up for dot.LA's daily newsletter for the latest news on Southern California's tech, startup and venture capital scene.
It may look like unassuming concrete at first glance, but the curb could be the most valuable piece of real estate in Los Angeles.
"There's gold in those hills—we gotta monetize the curb!" is the general sentiment, according to Seleta Reynolds, general manager of the L.A. Department of Transportation. Reynolds joined other panelists at the Curbivore conference in Downtown L.A. on Friday to discuss the opportunities and challenges that curbside spaces present for businesses and municipalities alike.
---
Reynolds noted that there's a gap between the value that the curb holds for private stakeholders and the ability of cities like L.A. to enforce rules and regulations. By and large, she added, many businesses don't consider the curb as public space entitled to what she termed "the public right of way."
"You have companies like UPS and FedEx that consider parking tickets part of the cost of doing business," Reynolds said. "We have not figured out either a pricing or enforcement mechanism that's been able to get us to our goal, which is mainly making it easier for people to get around this town without getting in a car."
Yet there are ongoing efforts to address that dynamic. A group of 160 city, business and tech leaders are building a Curb Data Specification (CDS) program to help cities better manage their street curbs. The hope is that delivery and ride-sharing companies are able utilize CDS to build their own curb management systems.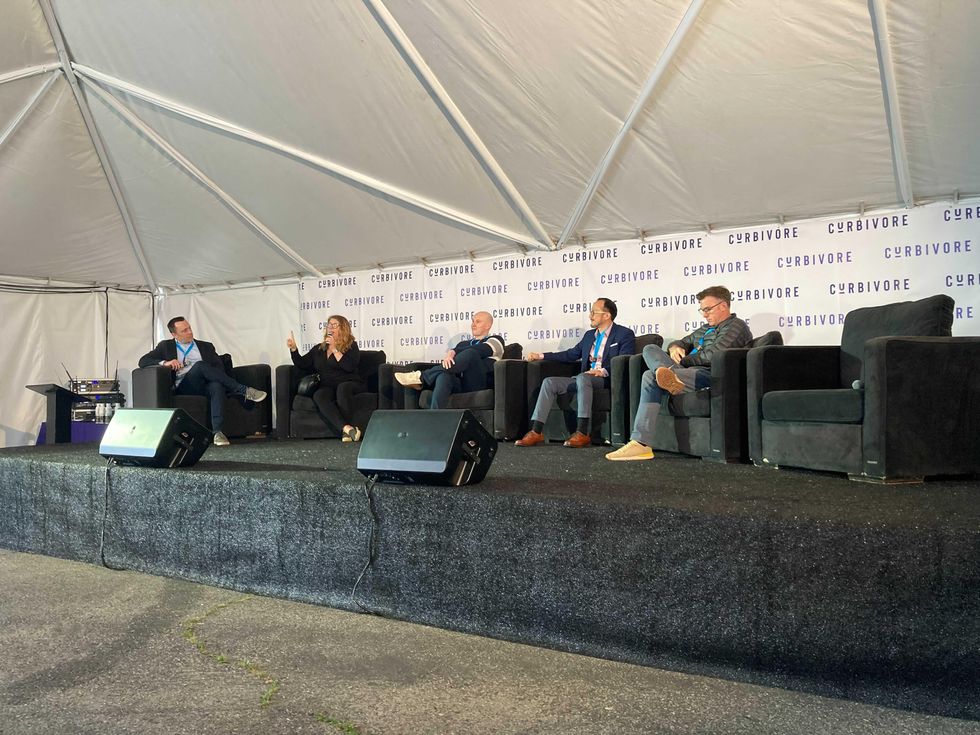 LADOT general manager Seleta Reynolds (holding microphone) speaks at the Curbivore Conference in Downtown L.A. on Friday.Photo by Maylin Tu
According to Reynolds, CDS defines the curb in digital language, monitors curbside players like delivery and ride-sharing vehicles, and measures and reports that activity back to the city.
Just as Santa Monica is piloting a zero-emissions curb management program in collaboration with the Los Angeles Cleantech Incubator, now LADOT, Automotus and Urban Movement Labs are piloting zero-emissions curbs across wider L.A. Automotus, which uses computer-vision technology to monitor electric vehicles, gas-powered cars and other vehicles, received a $4 million grant from the U.S. Department of Energy last year—the first such grant awarded to a curb management company.
Gene Oh, CEO of microbility management platform Tranzito, said that the future of the curb is in networked mobility hubs. Tranzito is working with the city of L.A. to create neighborhood-based public transit and micromobility hubs that have the potential to become social spaces for neighbors to connect.
"Ultimately, what we believe is that this space is owned by the public, is paid for by tax dollars, and it should be managed for everyone," Oh said.
An overarching theme that emerged among panelists was the need for collaboration between public agencies like LADOT and private companies trying to make a profit—and the role that data plays in both regulation and commerce. Reynolds noted that private companies have no obligation to provide their data to the city.
"I have no regulatory oversight of Uber and Lyft. I have no regulatory oversight of Caviar, Postmates, Amazon, all the rest of them," she said. "I think Amazon has a whole digital plan of the city of Los Angeles, but all of that data is confidential, tribal and private. So I have none of it, and I don't have a way to force them to give me any of it. So my only way forward is to find wins for them, to enforce where I can and to figure out how I can make it easier for [them]."
From Your Site Articles
Related Articles Around the Web