If you are looking for some enveloping schema toys to help your child through this stage of their development, you have come to the right place.
Here, I'll go over a bit about what the enveloping schema is and what you can do to support it.
I'll also give you some suggestions for fun toys that your toddler or preschooler will really enjoy during this phase.
Let's get right to it!
(This post contains affiliate links. Purchasing from these links costs you nothing extra, but helps with our website upkeep.)
What is the enveloping schema?
The enveloping schema is one of the 9 play schemas.
In the enveloping schema, children have an intense interest in exploring the concept of wrapping themselves and/or their toys within cloth, paper, or containers.
If you've observed your child burying toys outside or wrapping gifts when there is no special occasion coming up, they may be in the enveloping schema.
How can you support your child during the enveloping schema?
There is plenty you can do to support your child once you have observed that they are in the enveloping schema.
Melissa Kennedy has a wonderful, comprehensive guide to play schemas that will give you some Montessori-aligned ideas.
In addition to all the activity suggestions you'll find there, enveloping schema toys are also a great way to support your child during this play phase.
While I did not observe this particular pattern of play in my 2 younger children, my oldest child was very much interested in envelopment for a couple of years, starting at around 3 or 4.
She would wrap her toys and give them to her brothers as gifts, or wrap their own toys up for them as presents.
It was very sweet to watch and it was also abundantly clear that she had a deep developmental need to be doing this.
I felt it very important to make sure she has the toys she needed during this time.
Here are 7 enveloping schema toys that are just perfect.
7 fun enveloping schema toys for toddlers & preschoolers
Climbing triangle
When you think of enveloping schema toys, gross motor toys like the Pikler Triangle probably don't come to mind.
With a climbing triangle, like the one featured below, kids can easily make forts and tents, satisfying their need to envelop themselves or their toys.
This is also a great option, as it's useful for many of your child's other developmental needs, like the need to climb.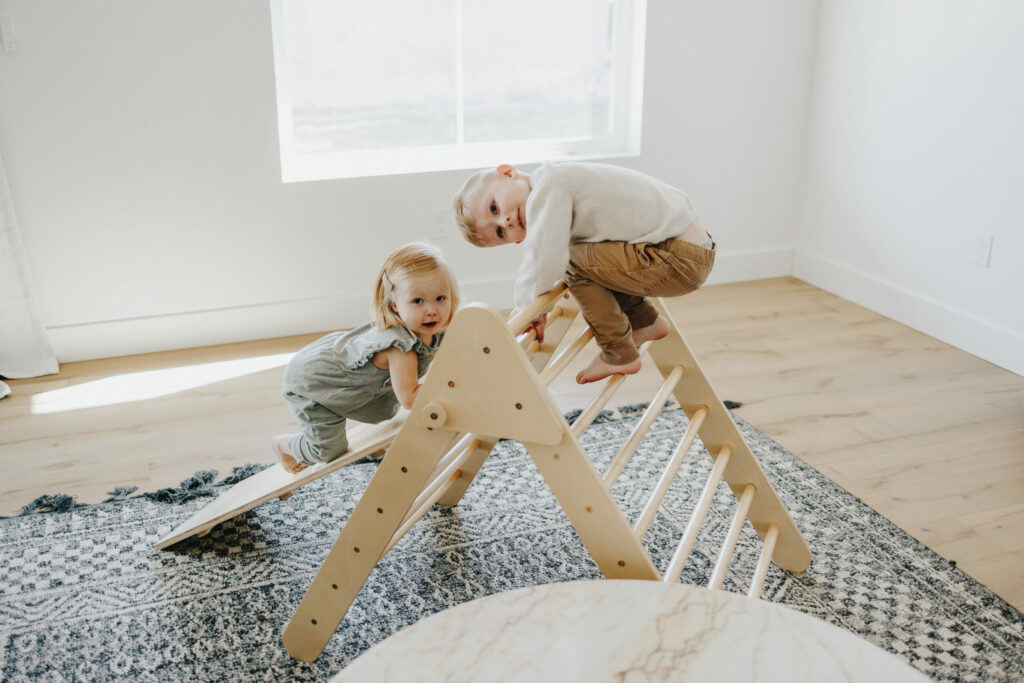 Sensory bins can be great for a child's development, and believe it or not, they can be used in Montessori-aligned ways.
As far as the enveloping schema is concerned, sensory bins can be used to hide items in dirt, rice, corn, beans, or anything else you can think of.
Nesting cups are great for the enveloping schema, as your child can place one inside another, satisfying that need.
This is another option that can be used in a variety of other ways, as well.
The set of nesting cups that is featured below is great for stacking, which also makes it a great to for the positioning schema.
The larger cups in this set are great for the transporting schema, as well.
Since schemas can overlap, it's nice to have some toys that overlap, as well.
Play silks are great for the enveloping schema, as children can wrap themselves and their belonging in them.
We prefer the large play silks, like the ones featured below, simply because they can be used in a wider variety of ways than the smaller ones.
Also, Sarah's Silks are awesome – they're very high quality and will last a long time.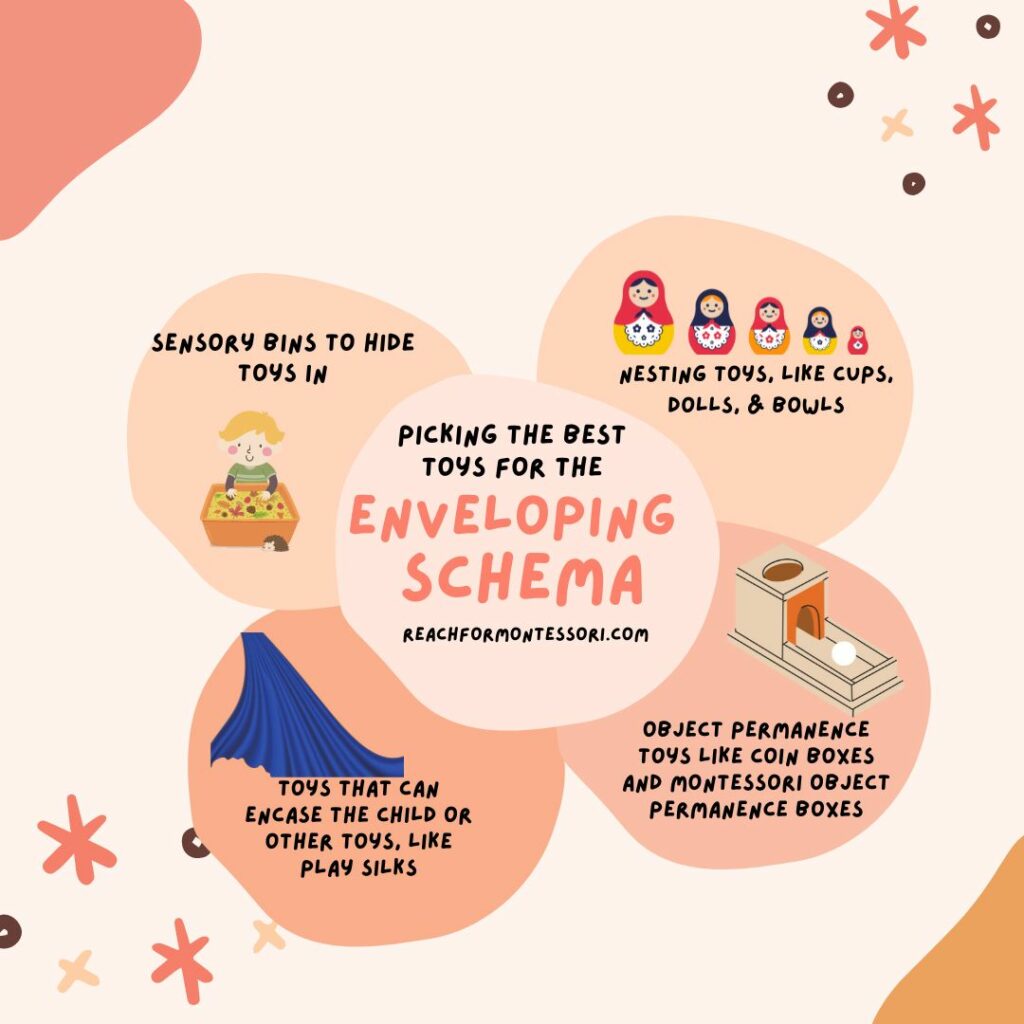 If your toddler is exploring the concept of object permanence while they are also in the enveloping schema, this is a great toy.
Young toddlers are often fascinated by how the ball finds its way out of the box when it's dropped into the top.
Body crayons and paints are a great way for children to explore the concept of covering their hands, ect.
This is a great bathtime enveloping schema toy.
Last but not least on this list is dress-up clothes.
Imaginative play is so important for a child's development and the enveloping schema is a wonderful time to encourage it.
Children will enjoy playing make-believe while they satisfy their need to cover themselves.
I love this idea.
There you have it – 7 fun toys that support the enveloping schema.
Of course, this list is not exhaustive. If you didn't see anything that would interest your child on the list, you can just use it as a guide.
Always follow your child's interests when picking out toys for them.
Cheers and don't forget to subscribe!