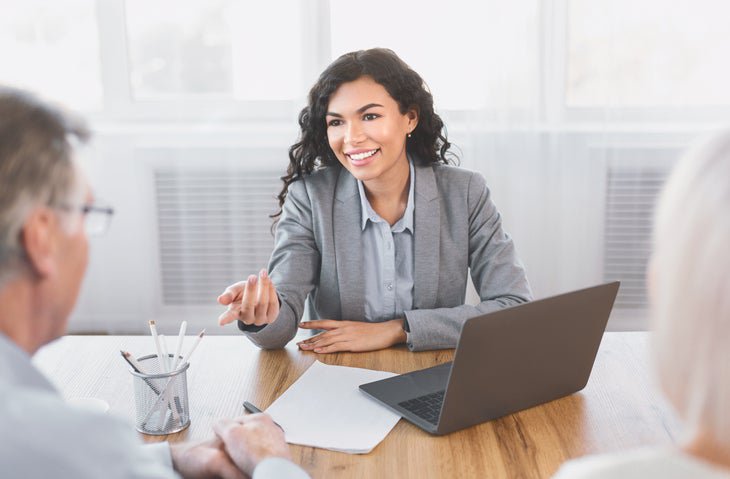 To promote your business effectively, you need the right marketing skills. In this guide, we'll cover ten marketing skills that you can't afford to ignore if you want your online business to succeed.
From a 30,000-foot view, marketing is the process of promoting your products and services.
And the internet's where a lot of that happens, but the internet has become so noisy that you need outstanding digital marketing skills to succeed. According to Worldometer, about 6 million posts are published online daily.
That's the kind of noise you need to cut through if you want to be found online.
Even with the best product in your industry, your customers will never discover it without the right marketing strategies in place.
In this guide, we're going to share several marketing skills and knowledge you need to grow your online business.
The ten most essential marketing skills you need to be successful today:
Search engine optimization (SEO)
Conversion rate optimization (CRO)
Video marketing
Social media marketing
Paid marketing
Copywriting
Data analysis
Content marketing
Email marketing
Research
1. Search Engine Optimization
SEO is the process of ranking website pages organically on the search engine results pages (SERPs).
If you're in the first three results of the SERPs, expect loads of traffic. According to Backlinko, the #1 result gets an average clickthrough rate (CTR) of 31.7%. Rank for relevant keywords, and you'll be flooded with people eager to buy your products.
How to put SEO into action:
Keyword optimize your pages: After figuring out what keywords you'll pursue, optimize your pages for them. This is easy to pull off with tools like Yoast SEO. The plugin shows suggestions on where to add your keywords and how to further optimize your pages.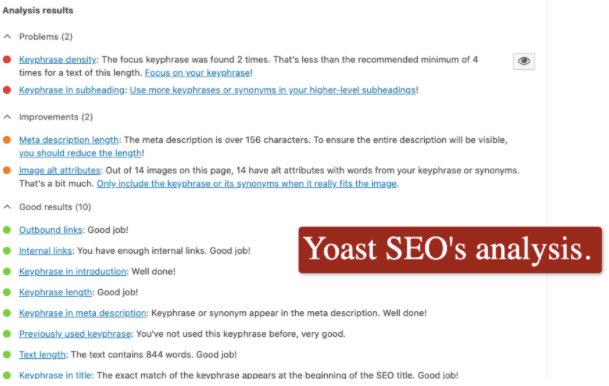 Build backlinks: Backlinks play a major role in ranking your pages. Connect with authoritative websites relevant to your niche and contribute an article containing a link to your website.
The more backlinks you create, the faster your site will climb the SERPs.
To uncover sites to link to, enter your competitors' websites on SEO tools like Ubersuggest. Click the Backlink feature under the SEO Analyzer category.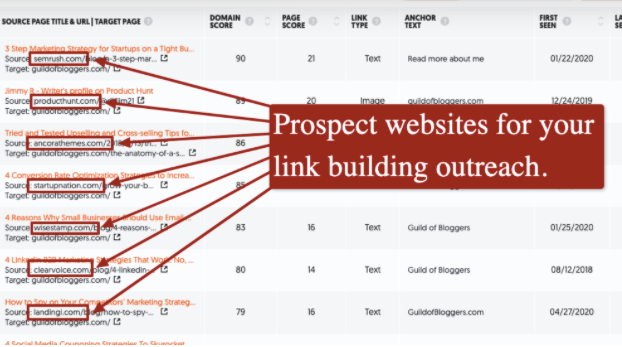 2. Conversion rate optimization
Conversion rate optimization (CRO) is the process of adjusting your web page elements to increase the likelihood of obtaining the desired actions (conversions) from your audience.
It's a continuous process that requires entrepreneurs and marketers to track their results and review their marketing analytics consistently.
In that way, you can optimize and fine tune your website to compel your visitors to take action on your offers.
How to put CRO into action:
Apply one type of call-to-action (CTA) on your landing pages: Your CTAs are the instructions you give your readers on your pages. You could be asking them to sign up, buy, download, etc. Adding more than one type of CTA can confuse your audience, leading them to click away from your website.
Conduct split tests: Whether you're using the best blogging platform or a free landing page, run split tests to optimize your pages for conversion. Split testing creates two versions of your pages, or web page elements, to see which one performs better. You continue the process routinely, always going with the winner.
3. Video marketing
People find videos entertaining, informative and persuasive, so your marketing team must acquire video marketing skills.
Video marketing incorporates videos into your marketing strategies to help you achieve your marketing campaign goals.
How to put video marketing into action:
Publish videos on YouTube: YouTube has 2 billion active users. Publish quality videos there regularly, optimize for the right keywords, and your videos will gain traction.
Use video ads: Use videos in addition to images in your ads. Successful marketers will tell you that most users respond better to ads with videos rather than still images. Biteable's experiment had more than 480% clicks on videos compared to static images.
4. Social media marketing
User engagement in social media sites is huge and has become one of the go-to marketing strategies for businesses.
It's the perfect place to engage your audience: talk with them, entertain them, or even get them to buy from you since you can now sell directly from many of these platforms.
How to put social media marketing into action:
Collaborate with influencers: When you engage influencers to promote your business, that's influencer marketing. This method is strategic (and successful) because you're leveraging the influencer's authority and numerous connections.
Run contests: Require people to share, comment, or make a purchase before they can join your contests. That way, you get value from the get-go even before your contest ends.
5. Paid digital advertising
Business owners pay the search engines, website owners, or other publishers for putting up their banner ads.
Business owners are often charged every time someone clicks or sees their banner ad (among other triggers). This model is pretty straightforward. Fundamentally, companies pay for site visits.
How to put paid digital advertising into action:
Native social media ads: Social media sites have inherent or native advertising features. Native ads allow you to reach thousands of relevant prospects since you can indicate parameters like their job title, interests, age, etc.
Pay for banner ads on relevant websites: Your customers prefer visiting certain blog sites or platforms over others. When you have banner ads on these platforms, you can bring in relevant website traffic.
6. Copywriting
Copywriting's job is to sell. It's all about influencing readers to take action. It's a crucial marketing skill that entrepreneurs and marketers need.
If you're not writing to sell, you aren't copywriting.
If you're writing a blog post to entertain or educate, but you aren't selling, then you aren't copywriting.
You use copywriting in brochures, catalogs, and emails, among other marketing channels, to compel readers to take immediate action on your offers.
How to put copywriting into action:
However, without good copywriting, even a well-thought-out series of email newsletters will fail to convince readers to make a purchase.
Even if you use email automation and the best email marketing software, your email list will likely ignore the email message.
That's why copywriting is so important. It can convince your casual email readers to take action on your offers.
Sales pages: Because sales pages are meant to sell, use copywriters, not other types of writers, to write sales page copy.
Sales pages often contain product information, "buy now" buttons, and security badges, among other elements, that push readers to make the purchase.
7. Data analysis
Analyzing data is one of the marketing basics you shouldn't ignore.
Even if you have good marketing skills, it'll be challenging to figure out which strategies are working and which aren't if you lack data analysis skills.
How to put data analysis into action:
Review data on your ads manager: Your ads dashboard contains data that shows the performance of your marketing campaigns. Facebook's Ads Manager, for example, shows your ad's reach, impressions, the amount you spent, and also your post engagements, etc.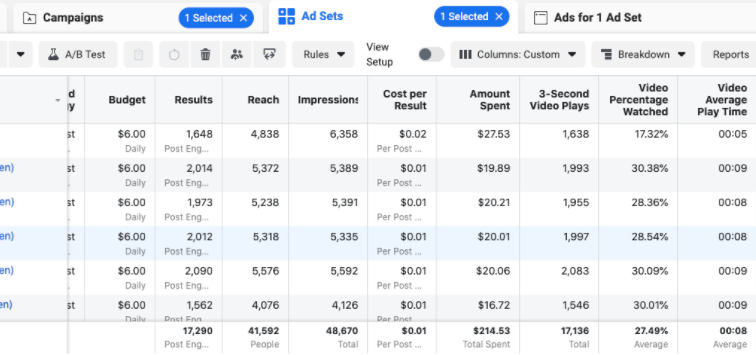 Learn about your competitors: Data analysis helps you obtain information about your competitors. To some degree, you can learn about their market segmentation, how much traffic they're getting, their number of backlinks, etc.
You can obtain these details from tools, such as SEMRush. With these pertinent details, you get a better grasp of your competitors' performance, allowing you to come up with better marketing strategies.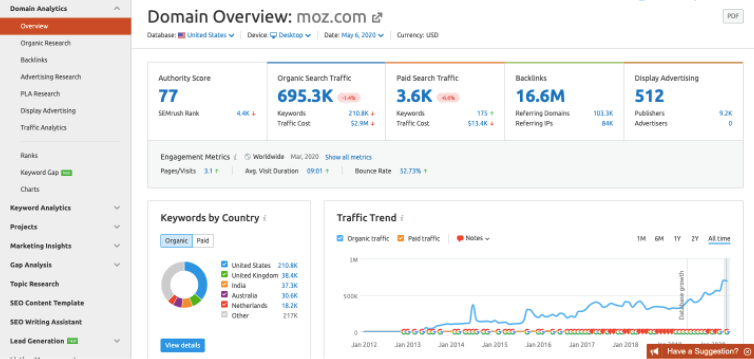 8. Content marketing
Instead of bombarding customers with paid ads, many companies use content to attract customers.
They publish articles, videos, infographics, or other types of content that provide massive value to their readers. This ultimately pushes readers to trust the company and buy their products down the line.
This inbound marketing strategy is so effective because it provides value to the audience upfront.
How to put content marketing into action:
Publish case studies: Showing your customers how you helped other companies face the same problems they're struggling with makes you easier to trust. After all, if you were able to solve the problem of others, there's a good chance you can do the same for them.
Publish guest posts: When you publish articles on other sites with your name and a link to your website, it makes your brand look more authoritative, and you also get referral traffic and link juice, which helps you rank on the SERPs.
9. Email marketing
Running an email marketing campaign can be exhaustive. It includes automation, customer segmentation, and copywriting, among other things.
When you send emails, you can customize your communication with your audience to a great degree. This makes your interaction more personal and worthwhile, therefore, more compelling.
How to put email marketing into action:
Send newsletters: Newsletters are great for building relationships with your customers. Don't share about your products every single time, instead give helpful tips on how to solve their problems. The more you help them, the more they'll trust you.
Email your discount offers: Instead of sharing your discount offers on your website only, email them. Emails are more direct and easier to access for your customers since they don't have to leave their inbox.
10. Research
Great research skills will help you uncover the best digital marketing tips, the next best product to sell, and the problems your customers are facing. All these can help improve your business process and drive growth.
How to put research into action:
Use advanced search queries: Cut your research time short by learning how to use the search engines effectively. Using advanced search queries, you get far more focused search engine results.
For example, if you're looking for web pages where your keyword phrases are found specifically in the title, use intitle:"keyword phrase." Take a look at this exhaustive guide from Zapier about advanced search queries.
Go to question and answer sites: Q&A websites like Quora can be a goldmine for research. Chances are, the questions you have in mind have already been answered in the platform. If not, you can always ask your question and wait for people to answer them. Quora has about 500 million monthly visitors. With that many people visiting the site, there's a good chance you'll get the answer to your questions.
Start learning
The marketing skills listed in this guide are by no means complete. However, if you learn them and gain a level of mastery, you will have an unfair advantage over your competitors who may be oblivious about them.
The skills needed for marketing your business might seem overwhelming at first. But if you start learning and stay committed, you will experience short- and long-term wins, which will help your business grow and inspire you to continue learning.